The registration desk in the Washington State Convention Center, Exhibit Hall 4ABC, is open from 8 a.m. to 5 p.m.
Complimentary Wi-Fi is provided near the Information Kiosk in the South Lobby but high numbers of users mean service can be unreliable. ASEE has negotiated a discounted daily rate of $12.95 per person/per device at the Convention Center (originally $79/day). Free Wi-Fi zones can be found in some downtown public areas, including Seattle Center and many cafés.

Donate to the ASEE Give-Back Campaign and support Treehouse, a Seattle-based nonprofit that supports education for foster children so they can graduate on time. http://www.treehouseforkids.org/donate
For titles, times, and locations of all workshops and other events, visit the online session locator.
Better yet, use ASEE's Interactive Conference Planner for mobile devices at www.asee.org/icp. Every time you search for, add, rate, or comment on a session, you'll automatically be entered to win a $50 Amex Gift Card! Watch the ASEE YouTube video to learn how to make the most of the app.
Click HERE for session changes for Tuesday, June 16.
Enjoy a particular session, event, or experience? Jot a shout out to share on the daily Conference Connection blog! Comments can be left in the boxes at the registration desk and South Lobby or emailed to shoutout@asee.org.
Exclusive offer: Renew your membership during the annual conference and save 5% a year for up to three years. Visit Tonya at ASEE's Information Kiosk during registration hours and she will process your renewal immediately.
Local delights. Enjoy group rates to a Mariners game and discounts at unique-to-Seattle clothing stores and other establishments – exclusive for ASEE conference attendees! Click HERE for details.
How Tweet! Win gift cards in ASEE's Social Media Contest. Post selfies with the executive director, answer daily trivia questions, and more! Use #ASEEAnnual to share thoughts on the conference and connect. Follow @ASEEConferences for more information.
HIGHLIGHTS FROM MONDAY: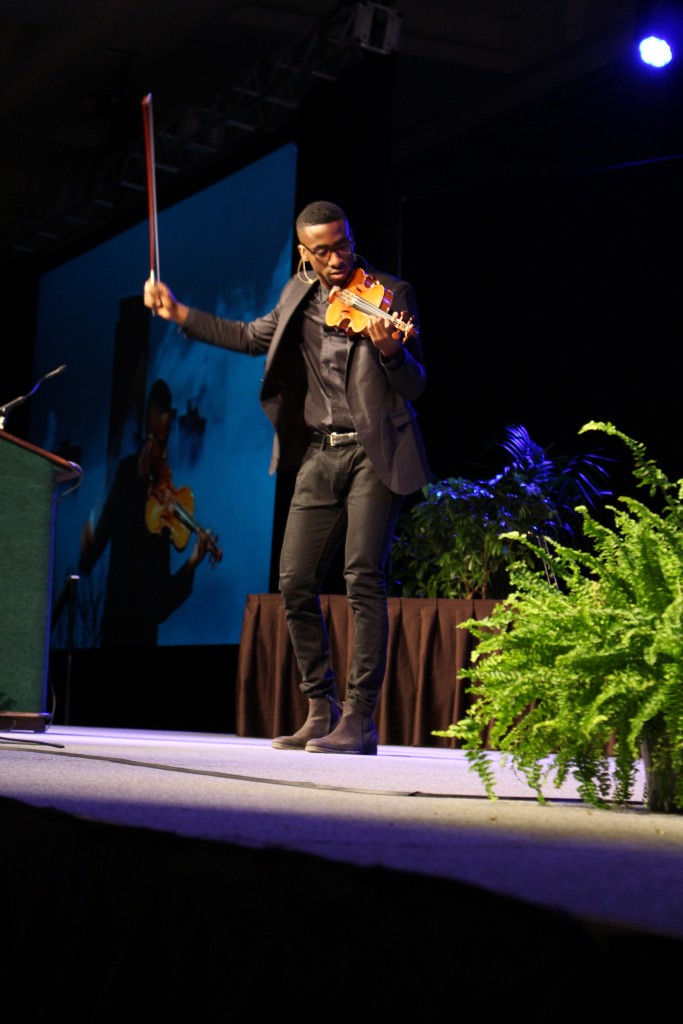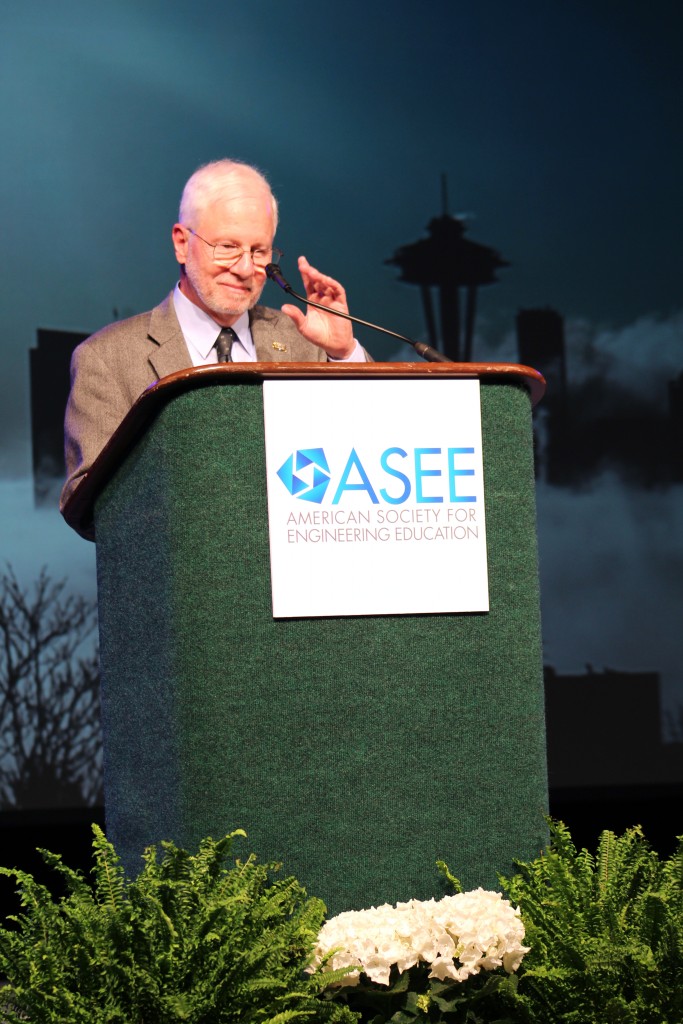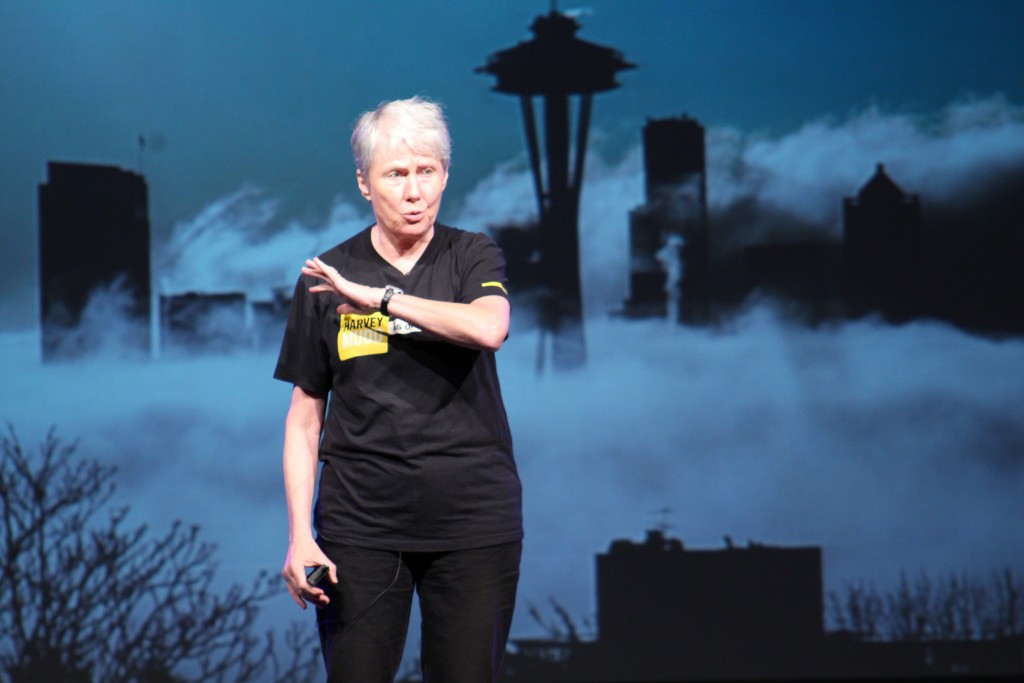 Day One launched with a plenary address by Harvey Mudd College President Maria Klawe, a noted mathematician and champion of diversity. During the session, ASEE President Nicholas Altiero presented the 2015 ASEE President's Award to FIRST (For Inspiration and Recognition of Science and Technology), the international robotics program, for its innovative use of print, broadcast, or electronic media to encourage K-12 students to pursue engineering careers. He also presented the ASEE Lifetime Achievement Award  to National Academy of Engineering President C. Daniel Mote, Jr., and recognized several national high school STEM competition winners, who later did demos of their projects at the Focus on Innovation Pavilion. Participants included:
Parker Owen, from Mobile, Ala., 2013 winner of the FIRST Future Innovator Award for his invention of the Cycle-Leg, an inexpensive prosthetic made from a single recycled bicycle.
Kalia D. Firester, from New York City, 2015 Intel Science Talent Search winner of the Second Place Medal of Distinction for Global Good for a research project on how a protein produced by crop-destroying nematodes interacts with a plant's cells and defenses, potentialy contributing to engineering natural immunity to a pest that costs global agriculture $100 billion annually.
Savannah Cofer and Varun Vallabhaneni, from Gahanna, Ohio, were 2014 Conrad Spirit of Innovation Challenge winners for their device to ameliorate hand tremors.
Teresa Dinh and Nick DeGallier, from Bellevue, Wash., received the 2015 EPICS/ASEE K-12 Student Award for the Engineering Programs in Community Service (EPICS), Purdue University.
Hana Gabrielle Bidon, from Hamden, Conn, won the 2014 Igor Sikorsky Youth Innovator Award in the By Kids For Kids – Sikorsky Helicopter 2050 Challenge with her Skylift 968 helicopter design made from recycled fiber.
Fishing Derby and robotics fans cheered on student teams as they trolled for fish in the Two-Year College Division's annual competition.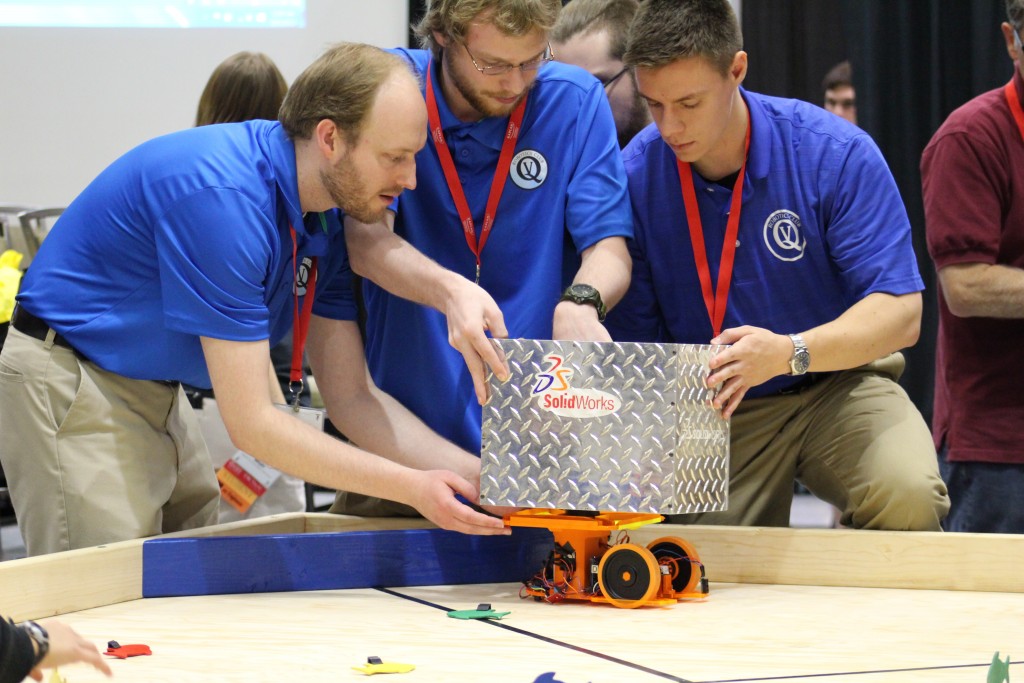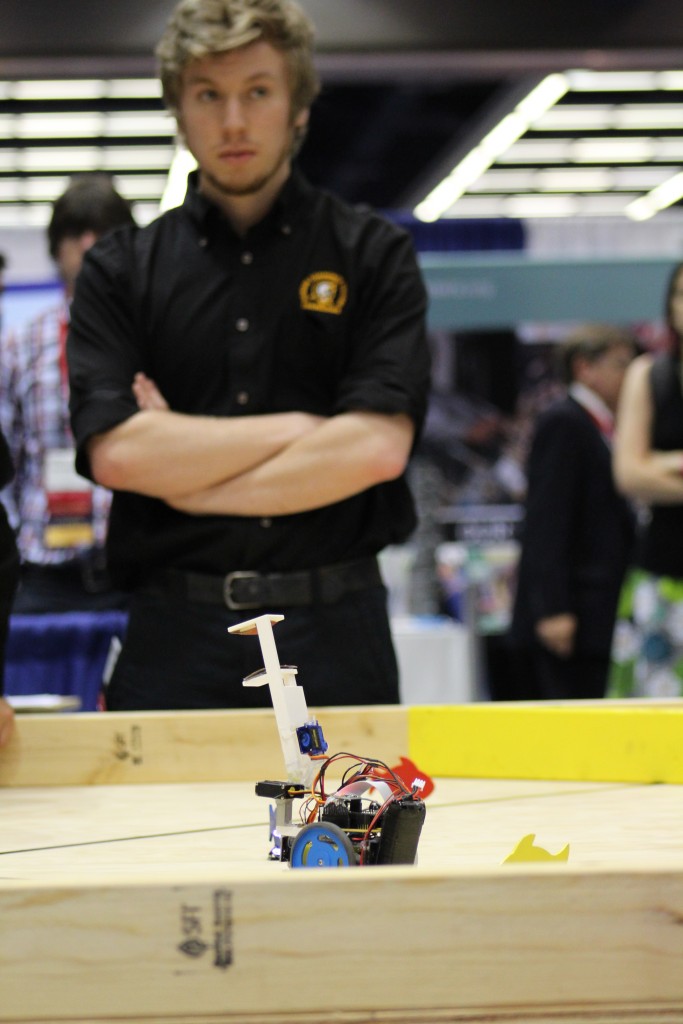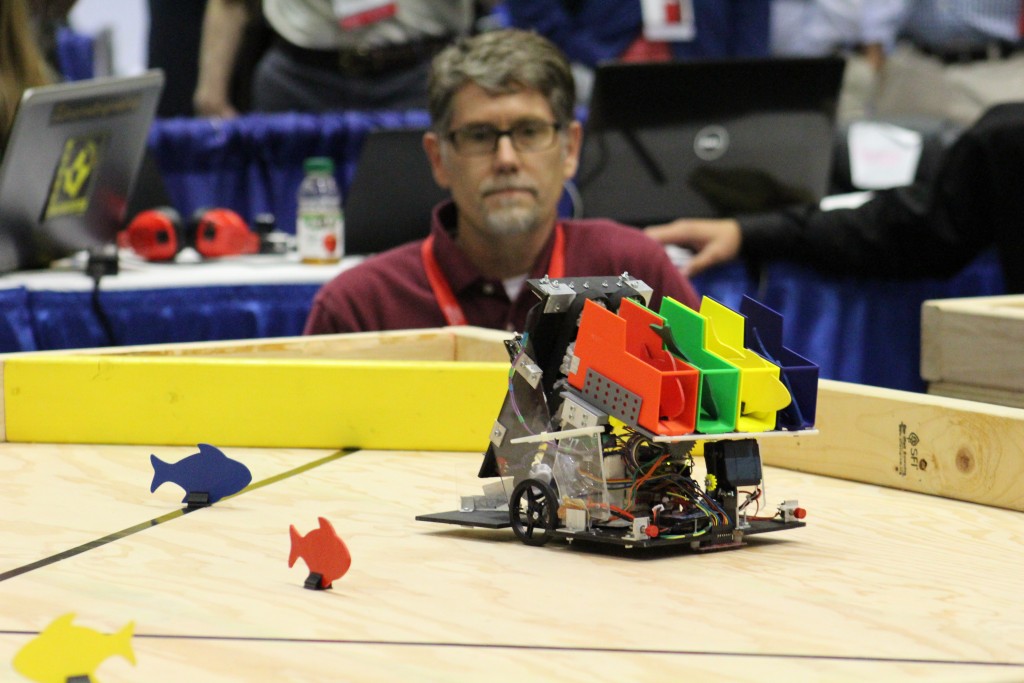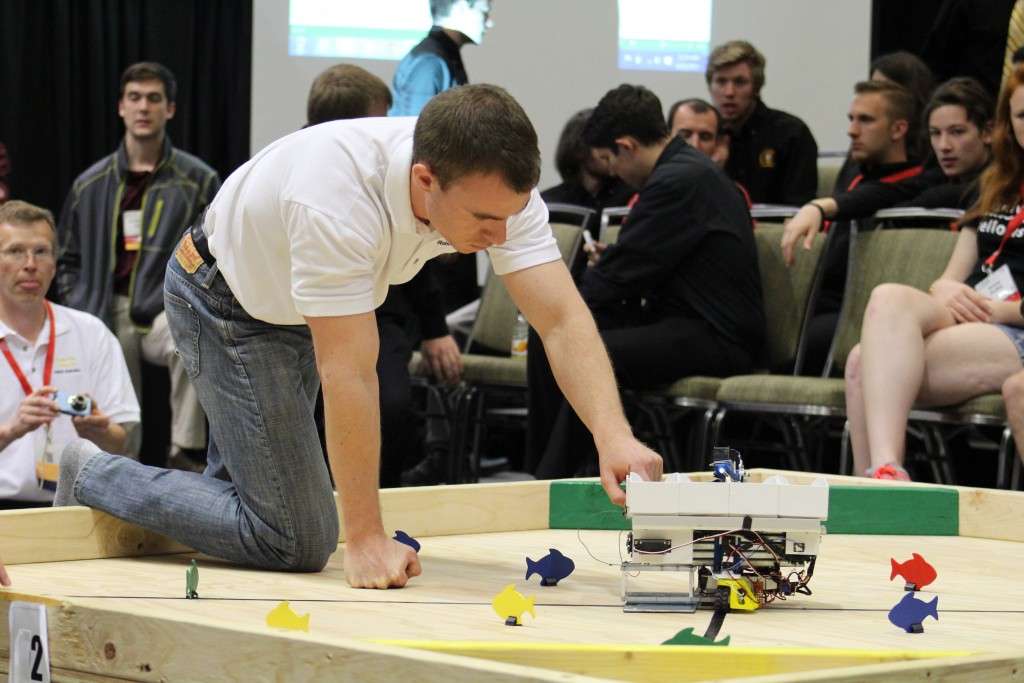 The Focus on Exhibits Lunch and a lemonade social provided excellent opportunities to catch up with old friends, make new ones, and explore the learning technologies and other engineering education resources on display.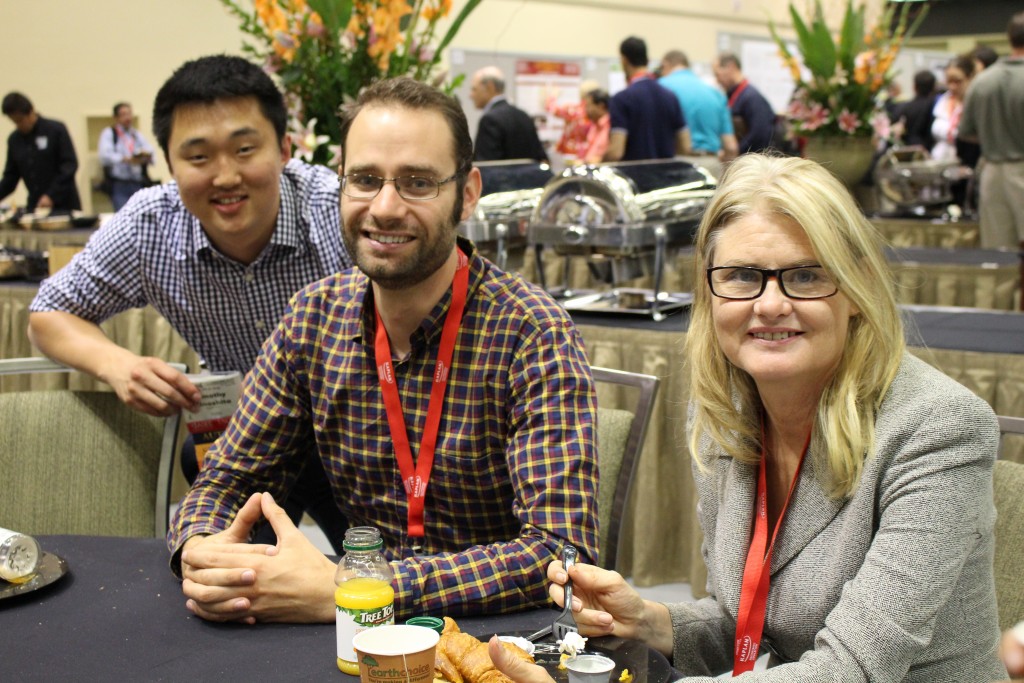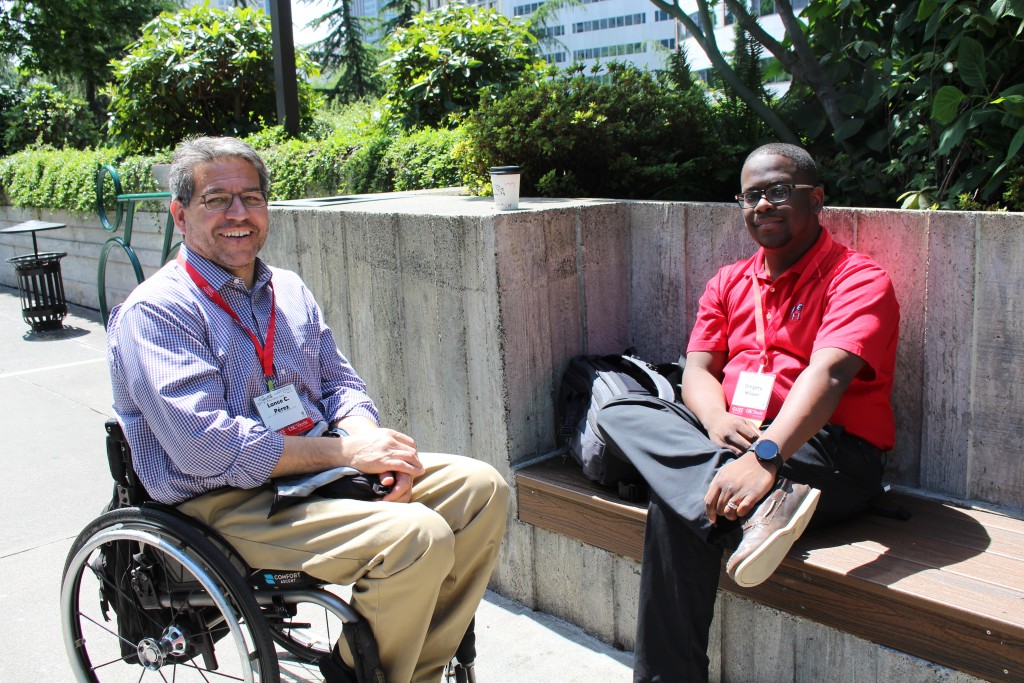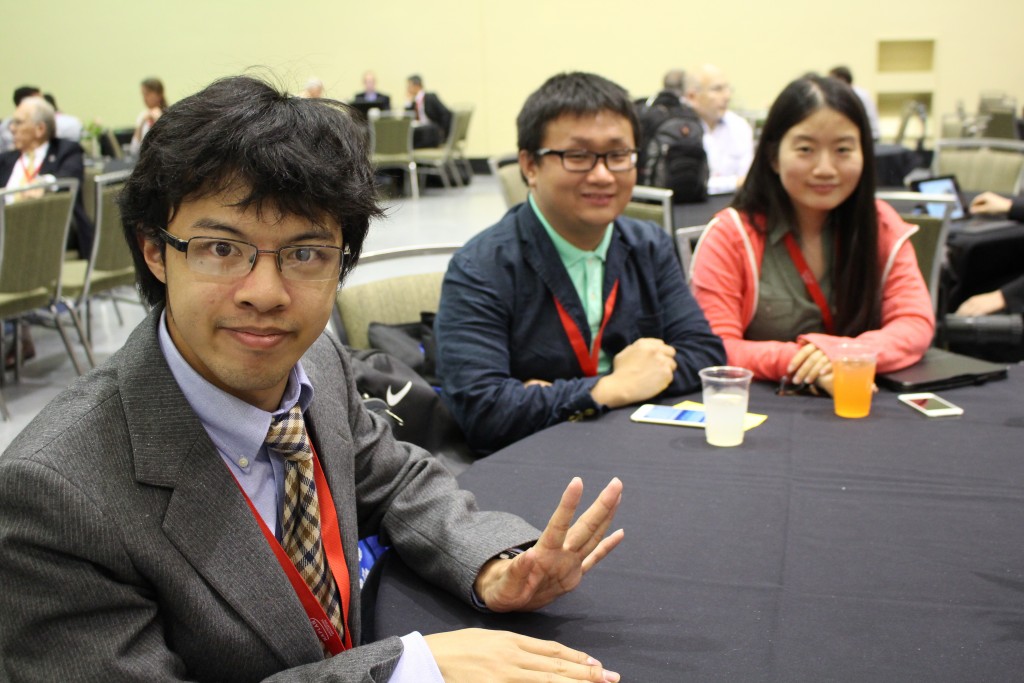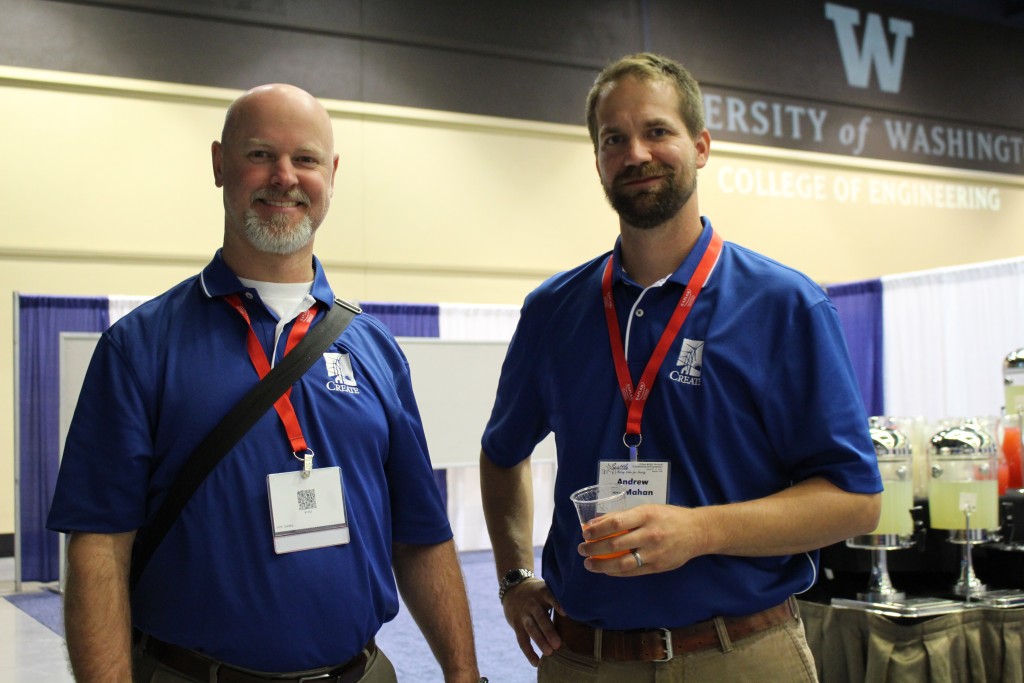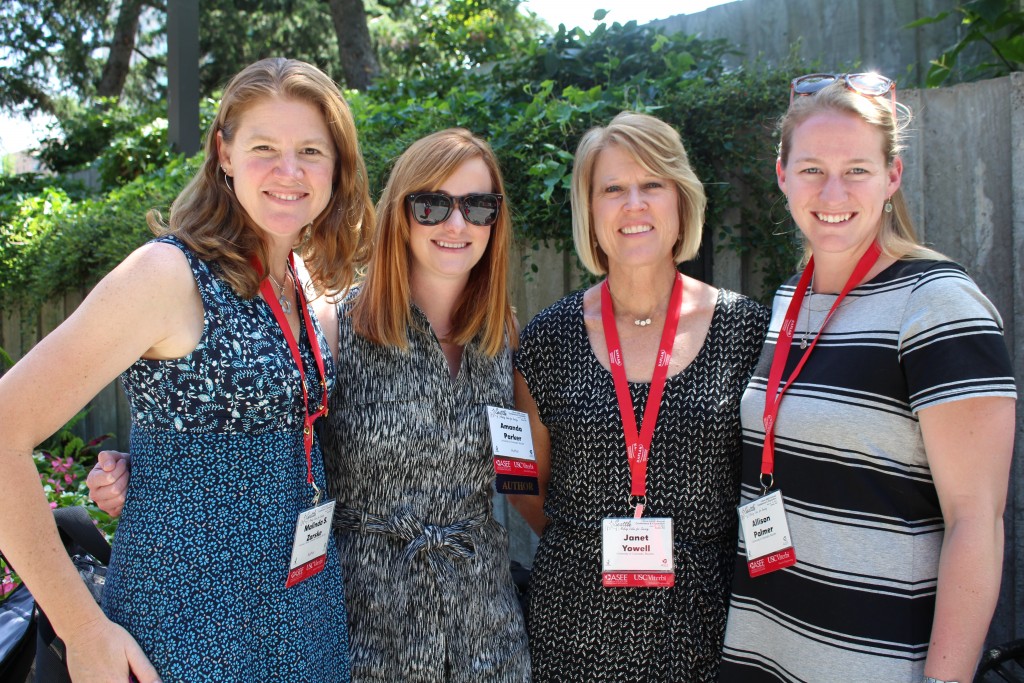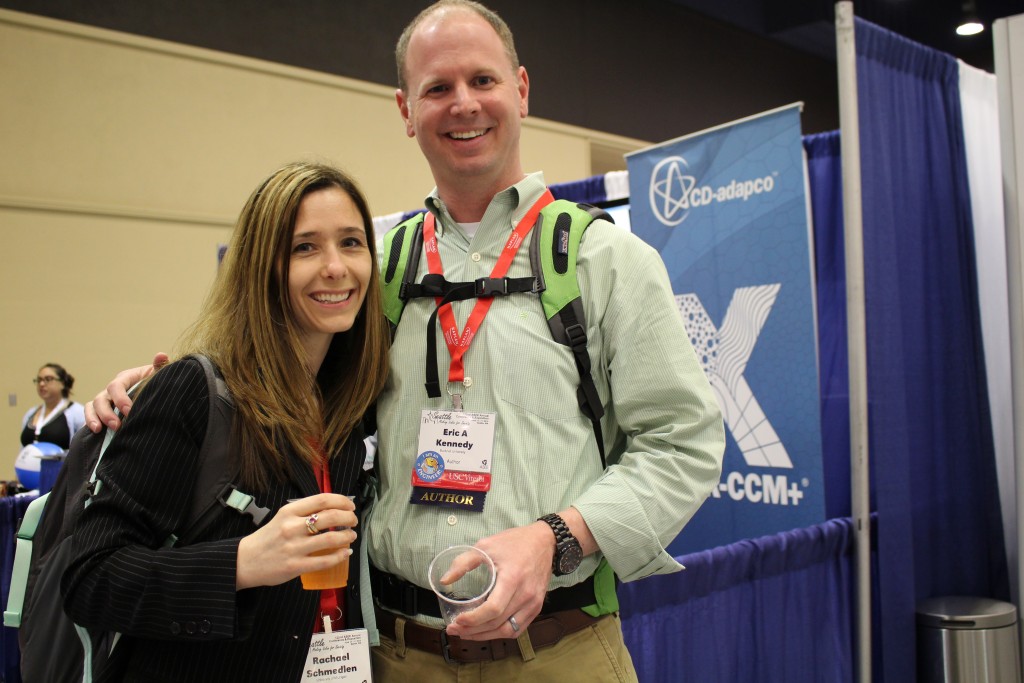 Monday wrapped up with the annual Awards Ceremony. Sponsored by Dassault Systèmes, the event recogned national and Society award winners, new ASEE Fellows, best paper authors, and the 2015 National Outstanding Teaching Award recipient, Robert M. Brooks. Click HERE for a .pdf of the Awards Ceremony program and list of recipients.
WHAT'S ON TOMORROW, TUESDAY, JUNE 16
The Main Plenary II gets underway from 10:30 to 12:15 p.m. at the Washington State Convention Center, Ballroom 6ABC with a keynote address by John J. Tracy, chief technology officer and senior vice president of Engineering, Operations & Technology at The Boeing Company. ASEE's 2014 Best Paper authors and the 2015 Outstanding Teaching Award winner, Robert M. Brooks of Temple University, also will be recognized.
Don't miss the Focus on Exhibits Lunch and ASEE Divison Poster Sessions, sponsored by Northrop Grumman, from 12:30 to 2:00 p.m. in Exhibit Hall 4ABC. If there's a booth you've yet to explore, this closing Exhibit Hall session will be your last chance. Also check out the Manufacturing Engineering Division's interactive Make It! session featuring 19 fascinating maker projects, including a 3-D printer made from e-waste, a one-hour robot, and the Twisted Sister Rover.
Help shape ASEE's future! What would you like the Society to be? Join ASEE's senior leadership – President Nick Altiero, President-elect Joe Rencis, Immediate Past President Ken Galloway, and incoming President-elect Louis Martin-Vega – at the Innovation Pavilion from 12:30 to 2 p.m. for this special overview and feedback session on ASEE's Strategic Doing process and draft plan, Attendees can particpate in a small group activity to identifying potential strategic projects.
If you have time, drop by ASEE's editorial table in the atrium to see the range of publications – from Prism to the Journal of Engineering Education to K-12 outreach materials – and chat with the editors.
Exclusive Field Trip. Spend the afternoon touring Boeing's Seattle facility plant from 2:15 to 6 p.m. This ticketed event ($10 advanced and $25 on-site registration) will depart from the convention center's Info Kiosk outside of the Exhibit Hall.
Notable Sessions
How to Write an NSF Grant 7 to 8:30 a.m., Washington State Convention Center, Room 201. Planning to apply for NSF grants as a student or junior faculty member? Increase your chances of success by learning the "how to's" of proposal writing from NSF Program Officer Donna Riley. Bring your research ideas and expect to leave the session with a working draft of an NSF one-page summary for their future research topic.
Design as a Social Process: Teams and Organizations 7 to 8:30 a.m., Washington State Convention Center, Room 692. This Design in Engineering Education Division technical session moderated by James Trevelyan includes presentations on preparing capstone design instructors to deal with difficult students and a look a evaluating success levels of student- versus instructor-formed teams entitled "How Did We End Up Together?"
A Virtual Community of Practice for Developing and Implementing Evidence-based Pedagogies 8:45 to 10:15, Washington State Convention Center, Room 620. Moderated by Stephen J. Krause and Stephanie Farrell, this session presents an overview of the NSF-sponsored ASEE Virtual Community of Practice (VCP) program followed by broader conversations to consider how attendees might introduce research-based instructional strategies in their classes.
ASEE-wide Session on Engineering and Liberal Education Integration 8:45 to 10:15 a.m., Sheraton Seattle, Redwood A. Moderated by Shane Cotter and Atsushi Akera, this panel on best practices responds to a working-group ecommendation from the 2014 Interdivisional Town Hall Meeting to embed discussions about general education into the program of other ASEE divisions.
Defining the "Moonshot" Strategies that Transform Undergraduate Engineering Education 12:15 to 2 p.m., Sheraton Seattle, Grand Ballroom A. This session on addressing the NAE's Grand Challenges will bring ASEE members together to generate radical strategies that have the potential to accelerate transformation – what GoogleX engineers call "moonshot thinking," or 10x versus 10% change. Speakers include NAE's Jenna Carpenter, NSF's Bevlee Watford, and ASEE's Rocio Chavela.
Engaging Young Engineers through Invention Education 2:15 to 3:45 p.m., Washington State Convention Center, Ballroom 2B. This technical session presented by the Lemelson Foundation brings together educators, a student, and leaders in the field of invention education to explore the uniquely engaging approach to engineering education that asks students to identify problems worth solving and then to apply engineering skills to invent tangible products that can be used to create successful businesses and make a positive impact.
Innovation through Propagation: Determining an Engineering Education Research Agenda This special session moderated by Larry J. Shuman, senior associate dean for academic affairs and founding editor of Advances in Engineering Education, will focuse on accomplishments and innovations that have occurred over the past decade or so that have lasting value in engineering education – and to what extent those innovations been propagated?
And Don't Miss
Using the FE Exam for Effectuve Outcomes Assessment 7:00 to 8:30 a.m., Washington State Convention Center, Room 607. In this technical session sponsored by NCEES, engineering educators Dave Whitman, Grant Crawford, and Rhonda Young discuss the rich source of data in the FE exam which is administered to more than 55,000 seniors and recent graduates annually. Critical Thinking: Is That Going to Be on the Test? 7 to 8:30 a.m., Sheraton Seattle, Issaquah. Moderated by Christina R. Scherrer, this technical session explores this and other issues in engineering technology education. Persistence and Retention 8:45 to 10:15 a.m., Sheraton Seattle, Metropolitan B. Matthew W. Roberts and Golnaz Arastoopour moderate this session on patterns of students' success, first-year mathematics, and other related topics. First-Year Programs Division Best Papers 8:45 to 10:15, Washington State Convention Center, Room 608. S. Patrick Walton moderates this session covering academic advising, inclusive environments, and other strategies. Fishing with Broken Net: Predicament in Teaching Introductory Physics 8:45 to 10:15, Washington State Convention Center, Room 694. One of the papers in the Engineering Physics and Physics Division's technical session moderated by Evan C. Lemley and Richard Harris. Find That Plane! Evaluation of a High School Summer Science and Engineering Camp Introducing Robotics to Simulate the Search for Malaysian Airlines Flight 370 12:30 to 2 p.m., Washington State Convention Center, Exhibit Hall 4ABC. K-12 Division poster session. Guardian Angels of our Better Nature 2:15 to 3:30, Washington State Convention Center, Room 619. One of the five best paper candidates in the Design in Engineering Division's session moderated by Reid Bailey. Tactical Approaches to Entrepreneurship Education 2:15 to 3:45 p.m., Washington State Convention Center, Room 614. Moderated by Mark M. Budnik, this session touches on broadening engineering particiation through the maker space movement and developing the T-shaped engineer. Best Zone Paper Competition 4 to 5:30 p.m., Washington State Convention Center, Room 310.
SPOTLIGHT ON WOMEN IN ENGINEERING
Women in Engineering: Faculty and Gender Issues 7:00 to 8:30 a.m., Sheraton Seattle, Medina. Developing an effective early-career mentoring program and a literature review of gender and department heads are among the presentations in this session moderated by Donna Reese.
Women in Engineering Poster Session 12:30 to 2 p.m., Washington State Convention Center, Exhibit Hall 4ABC. Research on assessing the GRIT of incoming engineering students (Laura Bottomley) and why high school girls interested in information technology don't pursue IT careers (Tanya Stanko) are two of the nine posters being presented.
Advancing Women of Color in Academia: Seeking Solutions 2:15 to 3:45 pm., Washington State Convention Center, Room 611. This session, moderated by Valarie D. Taylor, seeks to facilitate a dialogue by presenting highlights of the 2012 National Research Council conference on maximizing American talent by advancing women of color by fostering cultures in academia that are hospitable to people of every gender, race, and ethnicity.
Interactive Panel on Perspectives and Practical Skills for Men as Advocates for Gender Equity 2:15 to 3:45 p.m., Sheraton Seattle, Greenwood. Moderated by Debra May Gilbuena, this panel of men and women with diverse backgrounds and experiences to discuss their perspectives and offer practical skills for men to effectively serve as advocates for gender equity, including individual and institutional-level advocacy.
Women in Engineering: Student Issues as Related to Culture 4 to 5:30 p.m., Washington State Convention Center, Room 618. Presentations on this panel moderated by Angela R. Bielefeldt and Lindsay Corneal include the persistence of female undergraduates at two technological universities and reactions by students and professionals to sexist remarks.
Attracting, Developing, and Retaining Diverse Talent in Mechanical Engineering 4 to 5:30 p.m., Washington State Convention Center, Room 617.
Join moderator Jeremiah J. Neubert and a panel of veteran engineering educators in this interactive session to review and discuss findings emerging from two studies: a very large, cross-university, student dataset looking at demographics and student outcomes, and an in-depth qualitative study examining diversity issues in engineering competition teams.
Notable Posters:
NOTE: All poster sessions take place at the Washington State Convention Center Exhibit Hall 4ABC from 12:30 to 2 p.m.
SPOTLIGHT ON MAKING & MAKER SPACES

Making in Design 8:45 to 10:15 a.m., Washington State Convention Center, Room 618. Moderators Benjamin David Lutz and Bryony DuPont explore lessons from toy makers in teaching engineering, academic maker spaces, and more.
Make It! 12:30 to 2 p..m., Washingotn State Convention Center, Exhibit Hall 4ABC. This poster session features 19 maker projects, including a one-hour robot and the Twisted Sister Rover.
Tactical Approaches to Entreprenership Education 2:15 to 3:45 p.m., Washington State Convention Center, Room 614. "Broadening Participation Through Engagement in the Maker Space Movement" is among the presentations in this technical session moderated by Mark M. Budnik.
Wednesday – Makerspaces in the Library: Using 3-D printers, Laser cutters, and Kits to Enhance Learning 12:30 to 2 p.m., Washington State Convention Center, Room 604. FabLabs and outreach program collaborations are among the topics covered in this session moderated by Brianna Buljung.
Wednesday – Beyond the Classroom 12:30 to 2 p.m., Washington State Convention Center, Room 304. Arizona State's "Welcome to the Makler Movement: Parallel Education Pathways of Adult Makers" is among the presentations in this session moderated by Alice Pawley and Matilde Luz Sanchez-Pena.