Tuesday June 16
Welcome to Austin and ASEE's 116th annual conference and exposition. We hope you're comfortably settled. If you need assistance, our conference staff is available at the information kiosk near the registration desk at the Austin Convention Center, Exhibit Hall 4.
Highlights from Tuesday:
The Main Plenary II took place this morning. Keynote speakers Leah H. Jamieson of Purdue University, and Jack Lohmann of Georgia Institute of Technology, presented the recommendations of more than 100 ASEE volunteers, which build upon and respond to the many national and international reports on the future of engineering and engineering education, including ASEE's Year of Dialogue. Past President Jim Melsa opened the session with some background on the project – how we got to where we are today. After a brief overview of the project by Jack and Leah, the audience was invited to dialog on the project responding to three questions on next steps. This portion of the session was moderated by President Sarah Rajala assisted by seven project volunteers who roamed the convention floor listening to the discussions and selecting individuals to present their thoughts to the other attendees all captured on big screen television in real time. Incoming President J.P. Mohsen closed the session challenging the audience to continue the conversation and provide their comments to ASEE via a website that will soon be operational and make this a Year of Excitement about engineering and technology education.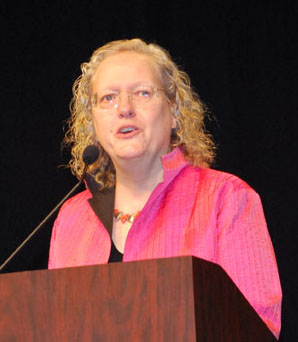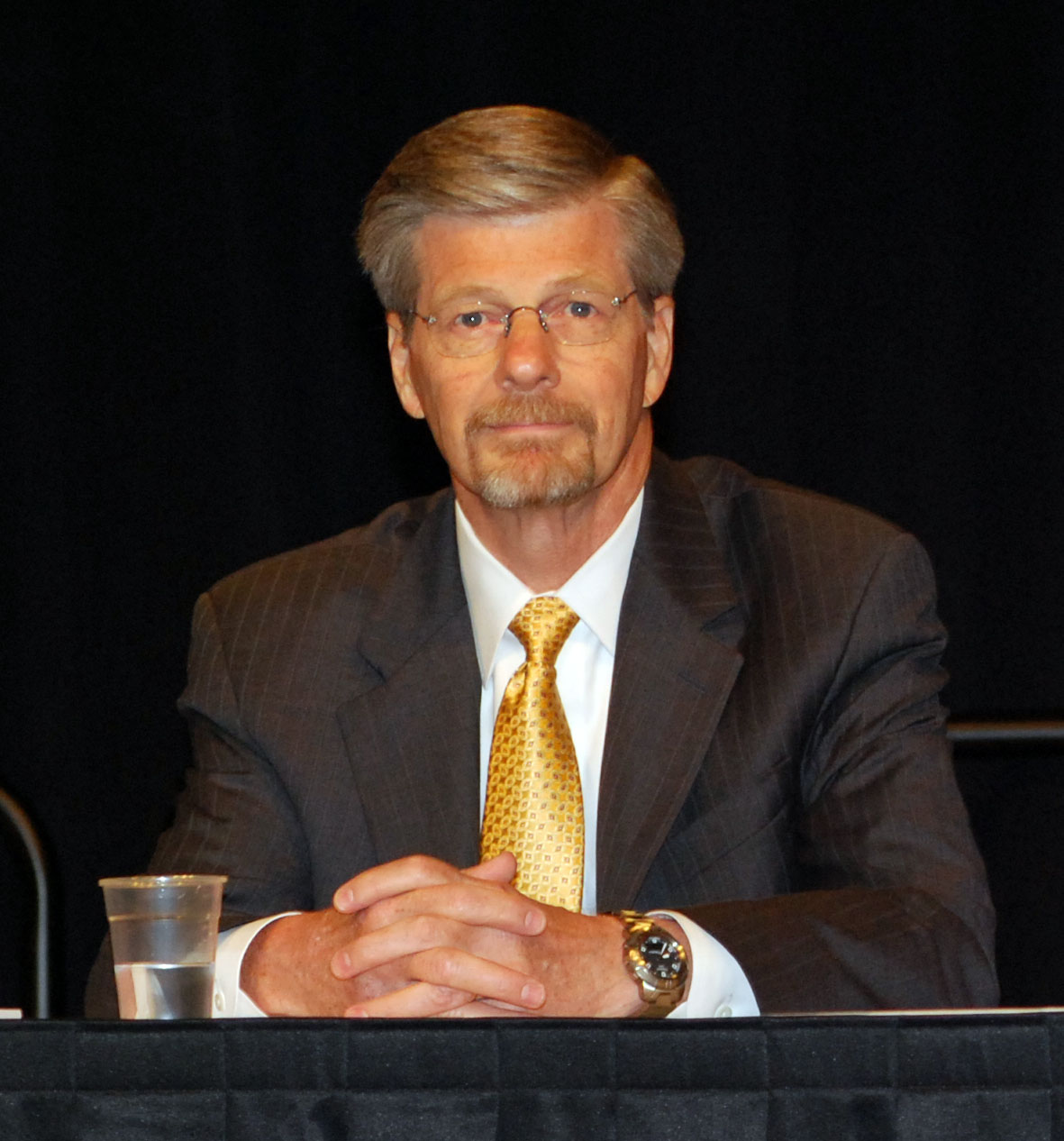 To view a copy of the Phase 1 Report: "Creating a Culture for Scholarly and Systematic Innovation in Engineering Education: Ensuring U.S. engineering has the right people with the right talent for a global society," please click below:
http://asee.org/about/board/committees/EEGE/upload/CCSSIEE_Phase1Report_June2009.pdf
The ASEE K-12 Pavilion, presented by Autodesk at the Exhibit Hall, was a new and popular feature this year. It showcased the work of ASEE corporate partners in attracting and retaining the next generation of students, and unveiled the new initiatives of ASEE's K-12 Engineering: Go For It platform.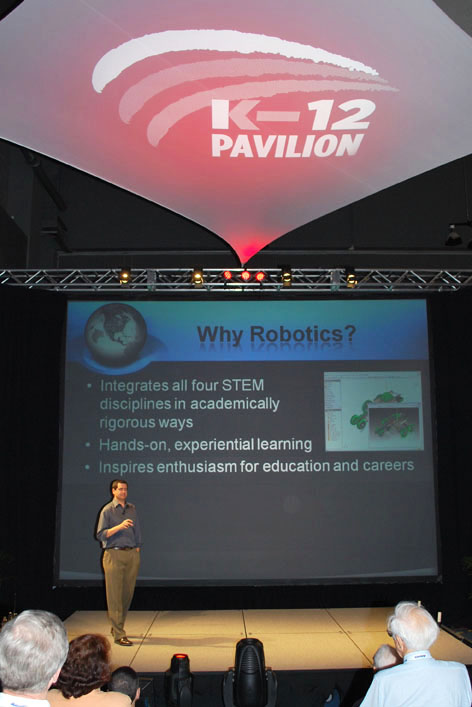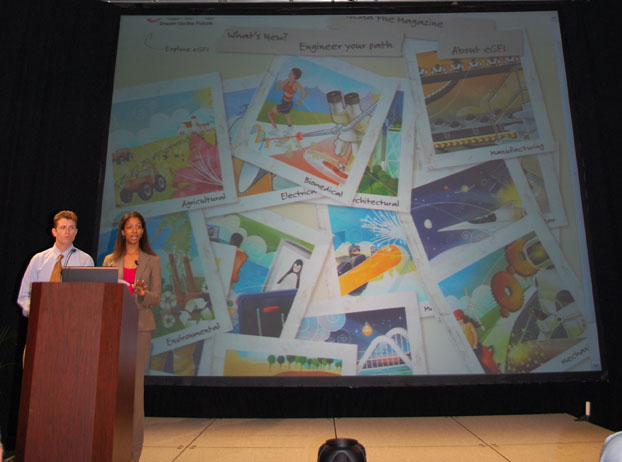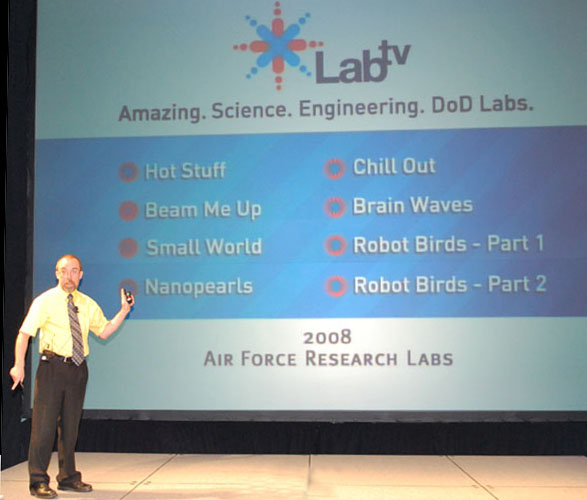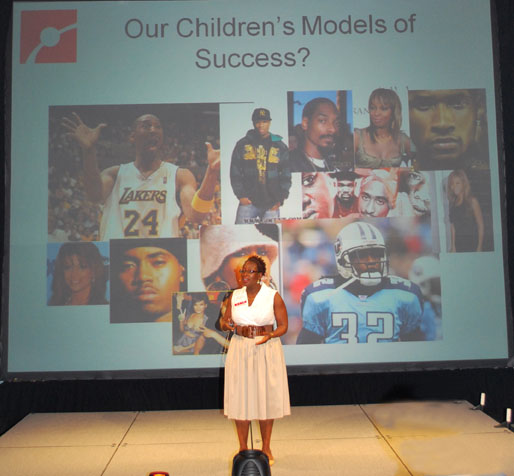 Also today, EDC outgoing chairman Don Giddens, Dean of Georgia Tech, received a plaque for his contribution and leadership to the Engineering Deans Council from incoming chairman Ken Galloway, Dean of Vanderbilt.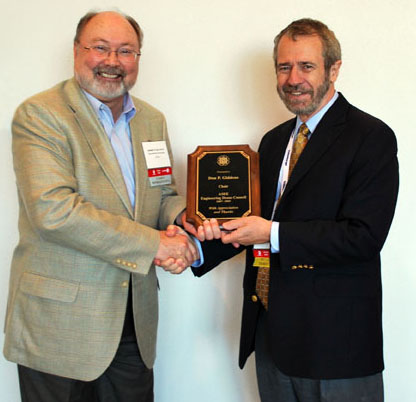 The "Focus on Exhibits" Ice Cream Social provided a refreshing afternoon treat for conference participants.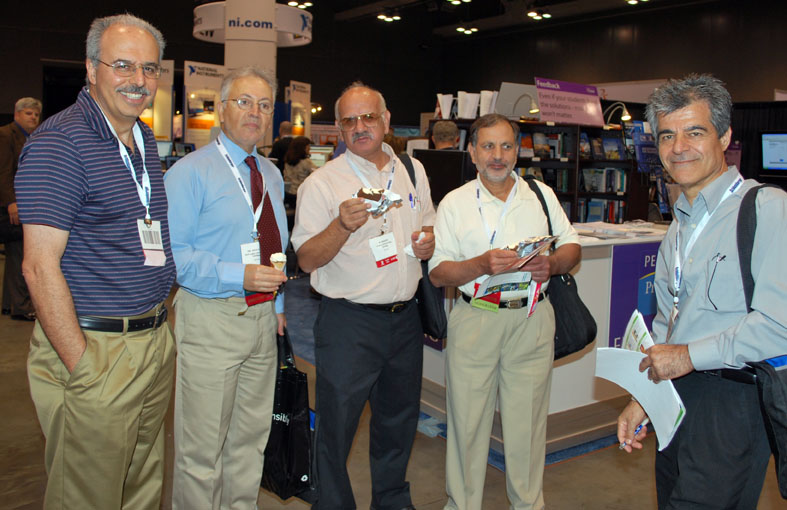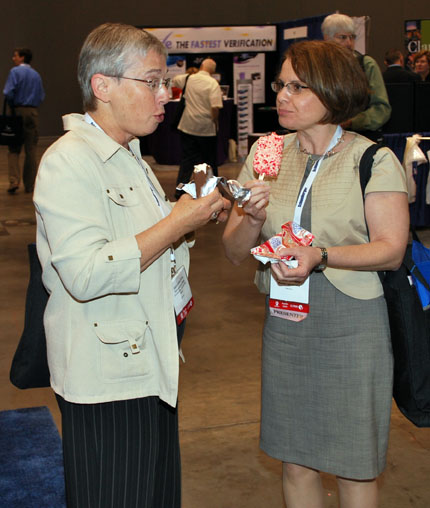 What's On Tomorrow:
Get ready for Wednesday's distinguished lectures by stopping into the Exhibit Hall for a complimentary brunch 8:30-10:15. While there, take in the variety of engaging poster sessions, then move on to the many technical sessions. In the afternoon, don't miss the ASEE Open golf tournament. The day's events will be capped by ASEE's Annual Awards Reception and Banquet.
For the titles, times and locations of all workshops, visit the online session locator at: www.asee.org/osl. You can build an individual matrix or use a keyword search to find topics of interest.
Distinguished Lectures
10:30 a.m. – Noon, Austin Convention Center, Ballrooms B, C, E, F, G.
ASEE is pleased to offer an impressive number of top education and industry leaders delivering the distinguished lectures this year. Please join us to attend: "Engineering the Future Engineer: A Sustainable Stimulus Package," James Truchard, president and CEO, National Instruments; "Educating Engineers for Global Innovation: Is Problem-based and Project-based Learning a Strategy?" Anette Kolmos; "The Sky Is No Limit: Observations and Lessons from a Teacher in Space," Barbara Morgan; "How 'Her Story' in History Has and Will Influence Women in Engineering," Jill Tietjen; "Things I Have Learned, In Spite of Myself," James Stice; and "Jane Marcet: Inventing the Technical Textbook Two Centuries Ago," John Lienhard.
Notable panels:
Alternative-energy Laboratory Experiences 7:00 – 8:15 a.m. Austin Convention Center, 16A; Moderator: Sarma Pisupati, Pennsylvania State University. Papers in this session offer original approaches to energy conversion in a variety of settings.
Recruitment and Development of Minority Faculty 7:00 – 8:15 a.m. Austin Convention Center, 19B. Moderators: Legand Burge, Tuskegee University; Bevlee Watford, Virginia Tech. Topics include mentoring, promotion, and tenure.
Advanced Materials Education 12:30 – 2:00 p.m. Austin Convention Center, 12B; Moderators: Aura Gimm, Duke University; Phillip Sanger, Western Carolina University. Papers describe recent attempts at educating engineering undergraduates in new material technologies.
Women in K-12 Engineering 2:15 – 4:00 p.m. Austin Convention Center, 15.
Moderator: Richard Gilbert, University of South Florida. This session explores issues related to enhancing, engaging, recruiting, and retaining women in engineering.
Case Studies and Engineering Education Around the Globe 4:30-6:00 p.m. Austin Convention Center, 10B. Moderators: Michael Dyrenfurth, Purdue University; Kevin Kelly, Dublin Institute of Technology; Elizabeth Tront, Virginia Tech. Speakers from Ireland, Ukraine, Illinois, and Florida discuss the varying national, regional, and local factors that influence the preparation of university students.
Other panels of interest:
Design for Society and the Environment 7:00 – 8:15 a.m. Austin Convention Center, 8A; Collaboration, a Cool Tool: Librarians/Faculty/Students Work Together for Quality Results 12:30 – 2:00 p.m. Austin Convention Center, 17A; Distance and Web-based Learning in ET: Remote and Virtual Laboratories 12:30 – 2:00 p.m. Austin Convention Center, 18B; Laboratory Development in ECE Education 2:15 – 4:00 p.m. Austin Convention Center, 9B; New Trends in Graduate Engineering Education 4:30 – 6:00 p.m. Austin Convention Center, 8C.
View a complete listing of conference sessions of special interest for K-12 educators.
View sessions of interest for college and graduate students.

Cross-disciplinary sessions:
Multidisciplinary Curriculum Innovation 12:30 – 2:00 p.m. Austin Convention Center, ML 6.
Engineering and Other Disciplines 2:15 – 4:00 p.m. Austin Convention Center, ML 6.
Multidisciplinary Design in the Classroom 4:30-6:00 p.m. Austin Convention Center, 8A.
Intriguing poster sessions:
Design in Engineering Education 8:30 – 10:15 a.m. Austin Convention Center, Exhibit Hall 4. Division Poster Session 1. Topics include "Engineering Design in the Creative Age."
Educational Research and Methods 8:30 – 10:15 a.m. Austin Convention Center, Exhibit Hall 4. Division Poster Session 8. Explores freshman engineering students' professional identity.
Also check out:
WEPAN and WIED Joint Panel: Life after Tenure – Leadership Roles in Academia 8:30 – 10:15 a.m. Hilton Austin Hotel, Hilton – 406. Panelists discuss how faculty can position themselves and prepare to move into leadership roles.
Entrepreneurship Town Hall Meeting: Supporting University Priorities 12:30 – 2:00 p.m. Austin Convention Center, 10A; Panelists focus on the National Academy of Engineering's "Grand Challenges."
Events highlights: WEDNESDAY
Power Breakfasts 7 – 8:15 a.m. Sponsored by the Academy of Fellows and by Zones I through IV. Ticketed Event: $10 advanced, $20 – 25 on-site. Check for locations, times and ticket prices at: www.asee.org/osl.
ASEE Focus on Exhibits Brunch 8:30 – 10:15 a.m. Austin Convention Center, Exhibit Hall 4. Complimentary.
ASEE BISTRO 10:00 a.m – Noon. Convention Center, Exhibit Hall 4. Open during the Exhibit Hall's hours of operation, the Bistro features breakfast, lunch, snacks, and beverages, available for purchase.
ASEE Open Golf Tournament Noon – 8:00 p.m. Barton Creek Resort & Spa, Fazio Foothills Course, Austin, TX. Tickets: $90 pre-reg., $100 on-site. Club rental extra.
ASEE Annual Awards Reception 6:30 – 7:00 p.m. Hilton Austin Hotel, Salon G. Complimentary for all conference attendees.
ASEE Annual Awards Banquet 7:00 p.m. – 9:00 p.m. Hilton Austin Hotel, Salon H. Tickets: $75 advanced, $85 on-site.
Keep in Mind:
Registration continues Wednesday for attendees, exhibitors and presenters, 8:30 a.m. – 12 Noon in the Austin Convention Center Exhibit Hall 4. Please give yourself ample time before sessions begin.
ASEE conference staff members are on hand to help with your questions on the conference program, scheduling, and other non-registration issues, at the information kiosk, located near the registration desk, Exhibit Hall 4.
The Projects staff at the ASEE booth in the Exhibit Hall can provide the latest information on fellowships and scholarships administered by the Society. Learn about millions of dollars' worth of programs for faculty, post-doctoral researchers, graduates, and interns sponsored by the U.S. Navy, National Science Foundation and Department of Defense.
The Speaker Ready Room provides a dedicated quiet space for presenters to prepare their materials. 8:30 – 5:00 p.m. Monday – Wednesday, Austin Convention Center, ML-2. Internet not provided.