For titles, times, and locations of all workshops and other events, visit the online session locator. You can build an individual matrix or use a keyword search to find topics of interest.
Tweeting? Use #ASEEAnnual to share thoughts on the conference and connect. Follow @ASEEConferences for more information.
Also check out ASEE TV – a partnership with production company WebsEdge to create two daily programs, "Thought Leadership" and "Conference News," highlighting best practices and innovations in engineering and engineering technology education.
Highlights from Tuesday:
Today's second Main Plenary, new this year, featured a keynote presentation by Charles Volk, vice president and chief technologist of Northrop Grumman's Navigation Systems Division.
The event also recognized last year's Best Paper award winners: Stephen R. Turns, Pennsylvania State University, University Park, "Applying Knowledge from Educational Psychology and Cognitive Science to a First Course in Thermodynamics," (Best Paper PIC I); Betsy Palmer, Montana State University, "Design in Context: Where do the Engineers of 2020 Learn this Skill?" (Best Paper PIC II); Susan F. Freeman, Northeastern University, "Service-learning vs. Learning Service in First-year Engineering: If we cannot Conduct First-hand Service Projects, is it Still of Value?" (Best Paper PIC III); Michael J. Prince, Bucknell University, "The Use of Inquiry-based Activities to Repair Student Misconceptions Related to Heat, Energy, and Temperature," (Best Paper PIC IV); Gale Tenen Spak, New Jersey Institute of Technology, "Outreach for Engineering Continuing Education: A Model for University-Company Collaboration," (Best Paper PIC V); and Rebecca A. Bates, Minnesota State University, Mankato, "Implementing Social Learning Strategies: Team Testing," (Best Zone Paper).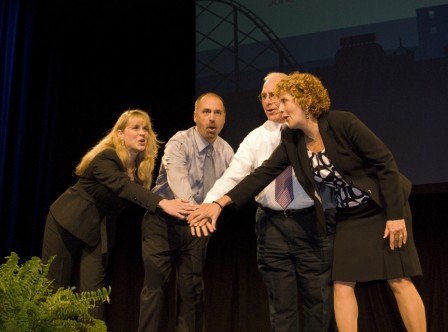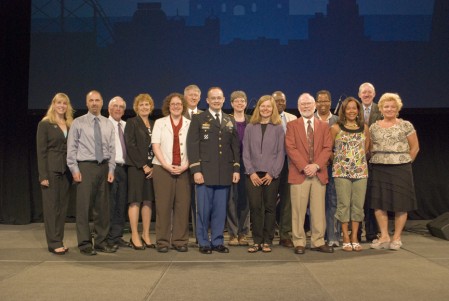 Also new this year was the complimentary Focus on Exhibits Lunch, where friends and colleagues had the opportunity to see some of industry's most innovative projects and Meet the Board in the ASEE Mobile Classroom.
Focus on Exhibits Lunch: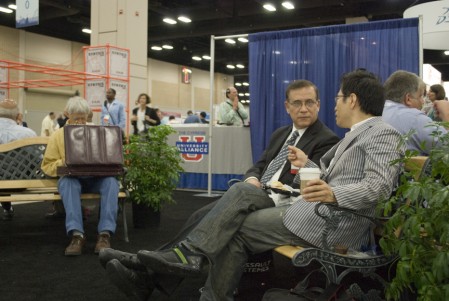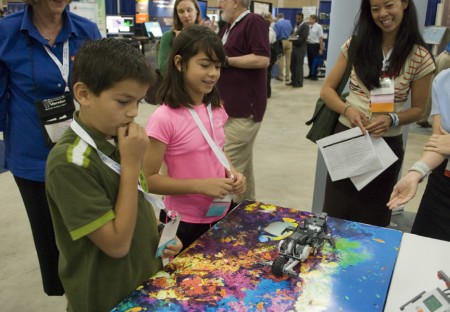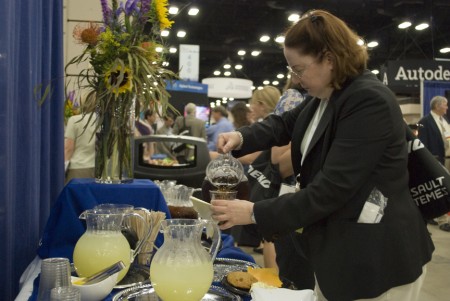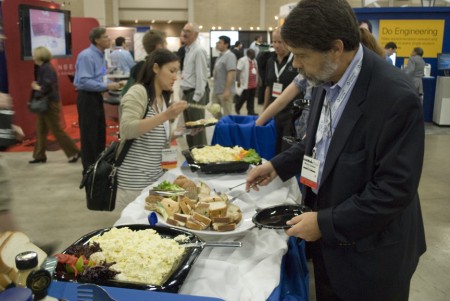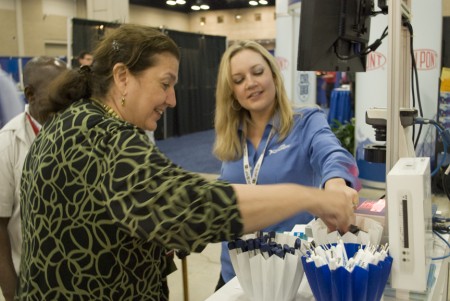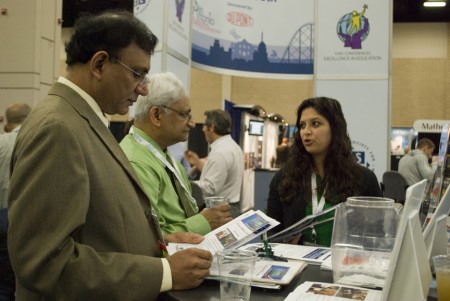 Meet the Board Forum: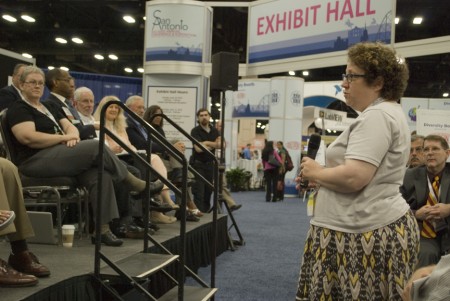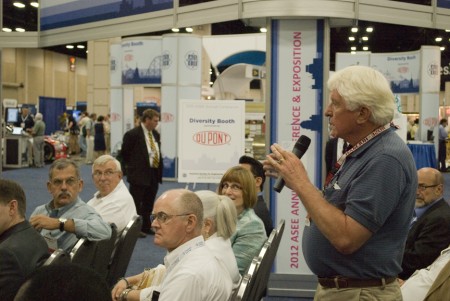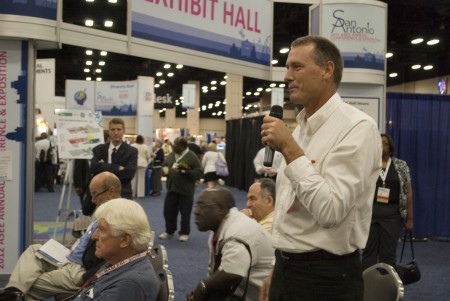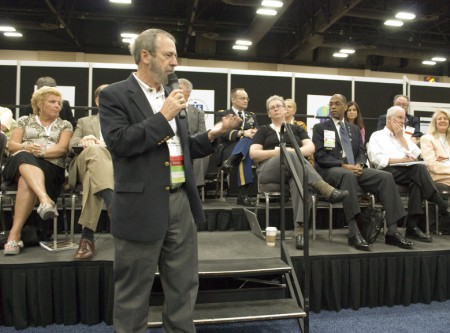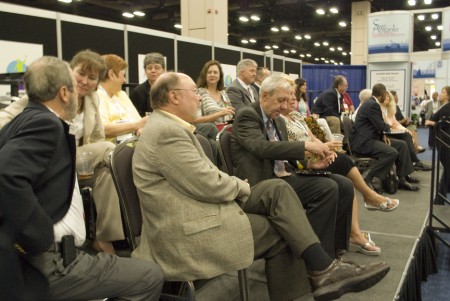 EDC/ETC/CMC Reception and Dinner: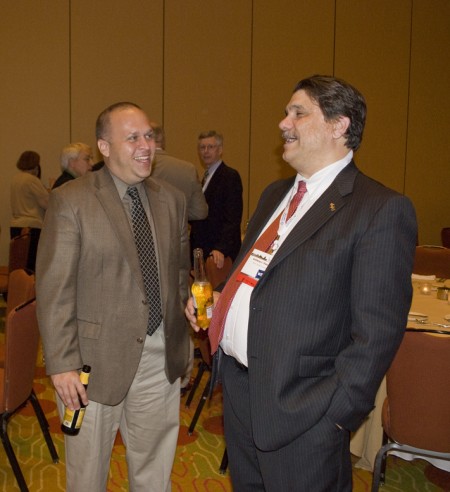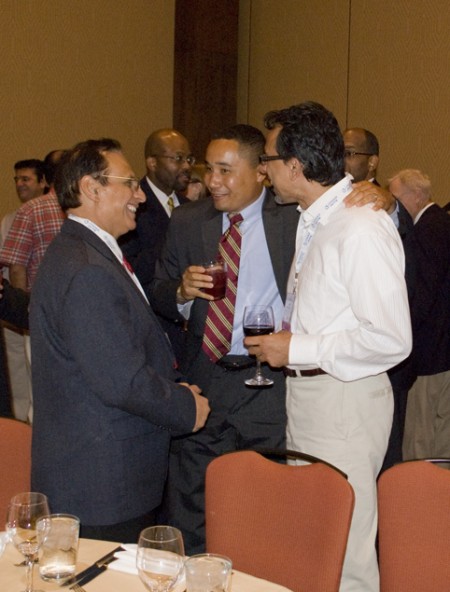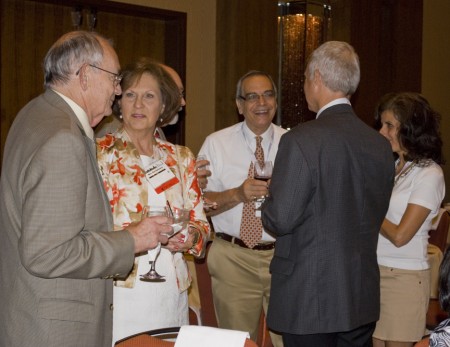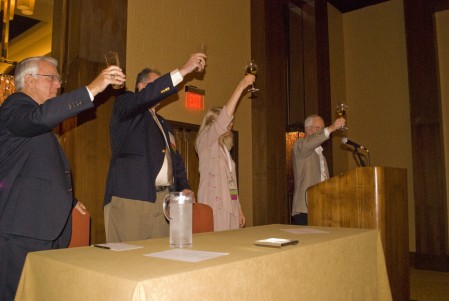 A Special Congratulations:
ASEE congratulates the recipients from today's prize drawing in the Exhibit Hall.
The CIP Division awarded a $50 Barnes & Noble Gift Card to:
Abi Aghayere, Ph.D., Drexel University
The City of Atlanta awarded three gift packs to:
Mack Mofidi, Ph.D., DeVry University

Robert Talbert, Ph.D., Grand Valley State University
Ibironke Lawal, Ph.D., Virginia Commonwealth University
What's on Tomorrow:
Wednesday wraps up the conference with more valuable sessions.
Tomorrow's highlights include a host of Distinguished Lectures from 10:30 to noon. Among them: a panel on making a master's the minimum engineering credential called Do We Need to Raise the Bar for Future Professional Engineers? (Room 217D)
Patrick A. Tebbe of Minnesota State University, Mankato, discusses the implications for energy education following the meltdown at Japan's Fukushima Daiichi nuclear power plant. (Room 217B)
And celebrity alert: Entrepreneur, engineering Ph.D., and founding chairman and CEO of BCT Partners Randal Pinkett, winner of NBC's reality TV show, "The Apprentice," will illuminate the entrepreneurial mindset, campus, and engineer (Room 217 A)
Capping the day is the ASEE Annual Awards Reception sponsored by Dassault Systèmes at 7:00 p.m., complimentary for all conference attendees, followed by the ASEE Annual Awards Banquet from 7:30 p.m. to 10:00 p.m. in Ballroom C. Please note that tickets are required to attend. $75 in advance for pre-registered attendees, $85 on-site purchase.
Notable Panels
The Designer of 2020: Innovations in Teaching Design, 7:00 a.m. to 8:30 a.m. in room 215.
Papers in this session moderated by Allen C. Estes examine various aspects of engineering design and innovative techniques to teach it, including "It's Just Good Engineering," a case study of sustainable design at Rose-Hulman Institute of Technology.
Accreditation and Outcomes-based Education, 8:45 a.m. to 10:15 a.m. in room 212A.
The punchy paper titles in this session, including a look at the social origins and impact called "The Tyranny of Outcomes" and another by Smith College's Donna Riley on the "bankruptcy" of outcomes-based education as a change agent called "Aiding and ABETing," suggests this this could be a lively session.
Future Directions of Continuing Professional Development, 12:30 p.m. to 2:00 p.m. in Grand Hyatt San Antonio, Presidio A.
Lifelong learning through Facebook and using a Wiki in STEM education are among the topics in this session moderated by Soma Chakrabarti.
Focus on Elementary, 2:15 p.m. to 3:45 p.m. in room 214D.
Elementary students are sponges when it comes to learning. Learn how "doing" engineering in the youngest grades helps develop engineering habits of mind in this session moderated by ASEE's K-12 and Pre-College Division chair Elizabeth A. Parry.
And Don't Miss…
Standards and K-12 Engineering, 7:00 a.m. to 8:30 a.m. in room 203A. Capstone and International Experiences, including Professeurs sans Frontiers, 8:45 a.m. to 10:15 a.m. in Grand Hyatt San Antonio, Bowie A. Untold Stories of Women, Science, and Engineering, an off-the record panel discussion with leading women engineering faculty 8:45 a.m. to 10:15 a.m. in room 214B. Android TA: Course Automation and the Fate of the Professor in room 215 and Design Across Disciplines in room 216A, both 2:15 p.m. to 3:45 p.m.
Spotlight on Retention
Crossing Bridges and Easing Transitions into the First Year, 7:00 a.m. to 8:30 a.m. in room 217B.
The University of Nebraska's engineering transfer seminars are among the innovations discussed at this session moderated by Jean-Celeste M. Kampe.
Recruitment and Retention Matters in Engineering Technology, 12:30 p.m. to 2:00 p.m. in room 204A.
This session moderated by Aurenice Menezes Oliveira includes papers on Wiki-based outreach and recruitment tools and research on the correlation of student attendance to success.
Addressing Retention in the First Year, 12:30 p.m. to 2:00 p.m. in room 217B.
Math support, industrial mentoring programs, and a study of attrition are topics in this lively session moderated by Scott Moor.
Retention of Women Students II, 12:30 p.m. to 2:00 p.m. in room 218.
This session moderated by Gretchen L. Hein and Bette Grauer includes papers on student involvement and how service learning boosts confidence of women in their engineering skills.
Spotlight on Gaming
Topics in Computer Science and Programming, 12:30 p.m. to 2:00 p.m. in room 210B.
Observations on the "digital carnival" and role of gaming in students' lives, and motivating students using game assignments, are among this session's topics.
Teams and Teamwork in Design, 12:30 p.m. to 2:00 p.m. in room 216A.
Online learning communities, an undergraduate video-game development course, and other approaches to incorporating teamwork into design courses.
Mechanics Classroom Demonstrations, 2:15 p.m. to 3:45 p.m. in Grand Hyatt San Antonio, Bonham D.
A video game to teach dynamics, classroom "Jeopardy" and other valuable in-class demos presented by experienced instructors.